On December 4, 2012 Roelof Janssen finished translating the last meditation for
Gold, Frankincense, and Myrrh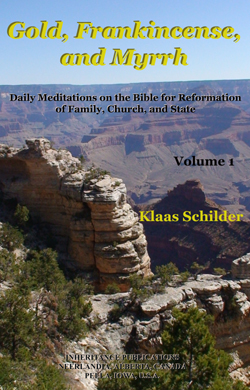 by Klaas Schilder
Daily Meditations on the Bible for Reformation of Family, Church, and State
Klaas Schilder's Gold, Frankincense, and Myrrh & De Reformatie 1920-1952
A few weeks ago Paulina joyfully announced that the new website is online. She has been working on this (besides all the other work she does) for about 18 months.
However, there is a cost to this :-( a price increase!
Please note: You presently on our Old Website
on which YOU will be able to Save about 10 - 25%
on many books which already now on our New Website are listed at the new prices!
The prices on this Website will also change D.V. Jan. 1, 2013!
Many of you may be aware of the fact that we do not take part in the popular North American way of marketing by advertizing a book which costs $30.00 as now available for $15.00 while the regular price of such a book often should have been $12.00. This strategy of marketing has killed hundreds of small Christian Book Stores and thus deprived the world of a faithful witness, especially in smaller communities. Today it is even difficult to find a local store that sells Bibles. And if one is found, that store may have the wrong translations.
Our books are fairly priced and we advise customers to buy locally. Most local Christian Book stores do not charge postage and, unless they do most business by special orders, rarely have to pay more than $1.00 per book for freight (when they order at least about 15 books). If you cannot buy our books locally, please order directly from us. We do not sell to Amazon.com. Christians should be aware that Amazon.com does not care if they sell good or bad books, and are working hard to (perhaps unintentionally) kill the Christian book market.
On our new website you will have to pay more for many books, and after Dec. 31, you will have to pay more on our old website as well.
Thus, if you want to save money check out our old website and stock up for birthdays and special events to come! Good books and good music always belong to the BEST gifts. And especially children LOVE our books.
I began by announcing the meditations of Klaas Schilder. This project took about 15 months and for the rest of my life I will look back at this time period with great gratitude. It is one of the mysteries of God that the depth of sadness goes together with the greatest joy. The deformation of the Church was the cause that pressed me back to Schilder five years ago. I have corresponded with our consistory, and with many ministers and elders, but when I noticed that the great majority were negative or very negative in their responses (most did not even respond) and were not interested in "my" writings, and since I knew that Schilder had said everything much better than I ever could, I began translating some articles and placed them on the web. When I discovered his daily meditations about two years ago I knew that they should be first. I basically dropped every other project, except for a series of homeschool conventions. Fortunately my children take care of several parts of our business. And behold, this major project is coming to an end. Along with the final editing, I am planning to also prepare a complete Dutch edition, and make both the English and Dutch editions available as ebooks at a cost of $15.95 each and print the English edition in either two volumes (2 x 384 pages) or four volumes (4 x 192 pages any input about this will be much appreciated). In both cases the sets will cost about $35.00 and as individual volumes a little more.
However, till Dec. 31, 2012, the Pre-Publication price will be $29.95.
Special pre-publication price
Paperback $29.95
E-book $15.95
Note: Since our paypal shopping cart is charging postage, we will refund the postage for the E-Book.
You can also pay by cheque, Mastercard or Visa!
We have only published one new book in 2012:
Little Yellow Farm House in Iowa
by Carol Brands
A Fictionalized Biography of Katherine Vastenhout
Precious Memories: Book 2: Years Eleven through Seventeen: World War II Years
When the Kroontje family moved into their second tiny house, they had no idea that within months of their move Uncle Bill Tilstra would be assigned to the USS Arizona, the first ship Japan bombed in Pearl Harbor. Nor did they know that three of Uncle Bill's ships would be destroyed – but that he would be spared from death in ways that were clearly God's providential care . . . yet so horrific that he hated talking about the war.
While war loomed in the background, Uncle Bill always on the family's mind, Katherine's farm life continued with a mixture of stories – some humorous, some serious, some full of neighborliness, some with tragedy.
Join the Kroontje family — living daily life on an Iowa farm even while World War II is being fought across the oceans.
Time: 1940-1945
Age: 13-99
978-1-894666-39-8 U.S.$11.95
Please check What's New for more information.