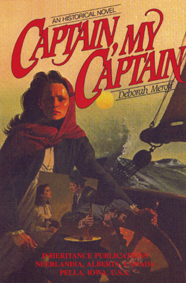 Subject: Mary Ann Patten
Time: 1837-1861
Age: 14-99
ISBN 978-0-921100-79-5
Retail Price: US$14.95
Captain, My Captain
by Deborah Meroff
Reviewed by Willy-Jane VanDyken: This is an historical fiction on the life of Mary Anne Patten. This courageous young woman lived during the California gold rush and the New England shipping boom. She was the youngest of Elizabeth and George's five children. Although she grew up in a Christian home, she formed a will of her own and much of her character was quite contrary to that which a Christian lady's character ought to be. Drawn to her exciting fantasies of marriage life she married at the age of fifteen to an older gentleman, Joshua Patten, whom she did not know very well. Being devoted to the women's rights movement, Mary was determined to spend much of her time contributing to that cause. However, ail these ambitions were dashed to pieces when she was called to join her husband, the captain of the clipper ship Neptune's Car, at sea. Adjusting to married life, let alone to the harshness of life aboard ship, would be a long voyage in itself for Mary — a voyage she learned she could not survive without the help of God.
This romantic novel is so filled with excitement and drama, it is difficult to put it down once one has begun it. Its pages reflect the struggle between choosing Satan's ways or God's ways. Mary's struggles with materialism, being a submissive wife, coping with the criticism of others, learning how to deal with sickness and death of loved ones, trusting in God and overcoming the fear of death forces the reader to reflect on his own struggles in life.
This story of Mary Ann Patten (remembered for being the first woman to take full command of a merchant sailing ship) is one that any teen or adult reader will enjoy. It will perhaps cause you to shed a few tears but it is bound to touch your heart and encourage you in your faith.
"My 16-year-old daughter says 'Captain My Captain' is one of THE BEST stories she has ever read. This is high praise from one who devours novels on an almost daily basis. All about a young woman who travels with her husband in the early days of shipping and winds up captaining their boat around the Cape, this adventurous story will keep any homeschool teen enthralled."
— Heidi Shaw (The Old Schoolhouse Magazine)