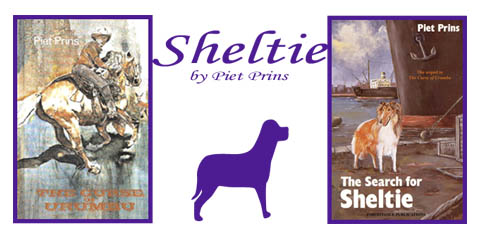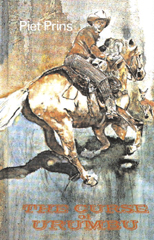 Subject: Fiction
Age: 9-99
Retail Price: US$7.95
#1
The Curse of Urumbu


by Piet Prins
Jack kills a wallaby, not knowing he has thereby violated an aboriginal taboo. The tribe's witch doctor pronounces a curse on Jack and the hunt is on.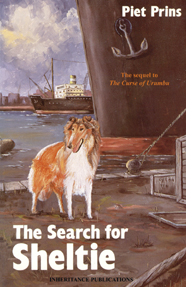 Subject: Fiction
Age: 9-99
ISBN: 978-1-894666-43-7
Retail Price: US$9.95
#2
The Search for Sheltie


by Piet Prins
Having shaken the curse of Urumbu, Jack and Sheltie return to the old country. Injured in a traffic accident, Jack is laid up in a Genoa hospital. Sheltie goes on ahead to Rotterdam where he promptly gets lost.
This book gives a fascinating look at the "psychology" of a dog trying to avoid capture as he hunts doggedly for his master. It also tells the story of the extensive, persistent search Jack and his nephews make for Sheltie.
Unaccustomed to civilization, Sheltie faces danger at every turn. Several scrapes with death make this a real nail-biter!

About the Author
Piet Prins (pen name for Pieter Jongeling 1909-1985)

Mr. Jongeling was born in the northern part of The Netherlands and studied to become a teacher. He indeed did teach for some years, but soon became the international correspondent of a Dutch newspaper. In 1942 he was arrested by the Germans and sent to a concentration camp. After the allied victory in 1945 he returned to The Netherlands and became one of the most important journalists and politicians in The Netherlands. For many years he was the editor of a Reformed Christian daily newspaper, in which he wrote most of his children's books as serials under the name Piet Prins. The first thing many people read when the newspaper arrived was these serials. In 1963 Mr. Jongeling became member of the Dutch parliament for the Reformed Political Alliance. One commentator mused: "What makes Jongeling such a remarkable parliamentarian? That's simple. The man works like a horse! He is always fully informed. When Jongeling speaks, the house listens."

Both as a journalist and a statesman, Pieter Jongeling knew himself bound by the inspired Word of God and as such his labour has born much fruit.