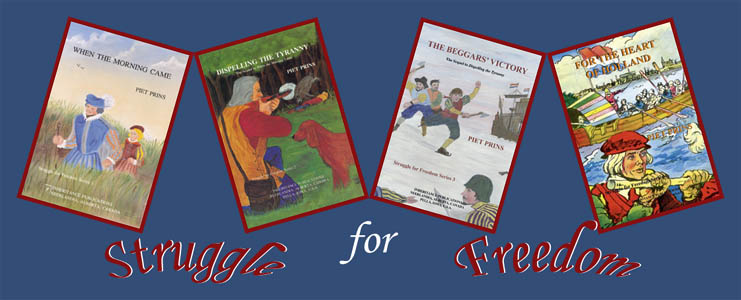 A series on the Eighty Year War in the Netherlands.



Buy all Four Books in the Struggle Series and save 15%.
Normal Price: US$48.75
Special Price: US$41.49



Subject: Eighty Year War
Time: 1568-1572
Age: 10-99
ISBN 978-0-921100-12-4
Retail Price: US$11.95
#1
When the
Morning Came
by Piet Prins
Martin's parents have been taken prisoner and are locked up in the village tower for professing their Reformed Faith. Now Martin was alone with Caspar the peddlar, whom he hardly knew.
The sheriff and the officers of the inquisition who had taken Martin's parents captive, vowed to return later in the day to look for him.
What was he to do? It was impossible to free his parents, or was it? What if they caught him as well? Would he have to flee the country?
Then he remembered the family friend Boudewyn, who was also of the Reformed faith. Not only was he a clever, good-natured blacksmith, he was also very big and strong. It was to this man that he must turn for help.


Subject: Eighty Year War
Time: 1568-1572
Age: 10-99
ISBN 978-0-921100-40-X
Retail Price: US$11.95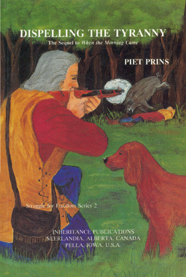 #2
Dispelling the
Tyranny

by Piet Prins
"Father! Mother! I saw Count Lodewyk! He rode through the city on a black horse!" Martin shouted, as he dashed into the humble home where his parents were eating supper. "The cavalry followed him, and everywhere he went the people cheered him on!" Martin's eyes sparkled with excitement.
"Calm down young man, and mind your manners," his father admonished. "You are more than an hour late and Mother was quite worried about you. Why are you so late?"
Martin blushed. "I had to deliver ten feet of cloth to a customer," he mumbled.
"Is that the only reason you are late?" his father asked.
Martin's face turned even redder. "No Father," he replied honestly. "On my way back I saw Count Lodewyk with his cavalry, so I ran after him with some other boys. I was so exited and happy. Everyone says that the Count is going to invade the Netherlands because the Prince of Orange asked him to. Maybe we can return to our own home soon!"
Mr. Meulenberg relaxed. "We are very happy to hear this, Son," he said, no longer angry. "It would be wonderful if we could return to our homeland and have the Gospel freely preached as well. I can understand that on hearing this good news you forgot to pay attention to the time. But let's not get too excited yet. We still have to deal with the Duke of Alva and his Spanish soldiers. There isn't a stronger army anywhere in the world!"
"The Lord can destroy his army," Mrs. Meulenberg said quietly.
Her husband nodded. "You are quite right, Mother, but we don't know if His time has come. Oh, if only freedom were at hand."



Subject: Eighty Year War
Time: 1568-1572
Age: 10-99
ISBN 978-0-921100-53-1
Retail Price: US$11.95
#3
The Beggars' Victory
by Piet Prins
It was the beginning of March, 1572. Four years earlier Martin, along with his father and his father's dear friend, Boudewyn, who was a blacksmith, had signed up on a Beggars' ship in Emden . . .



Subject: Eighty Year War
Time: 1573
Age: 10-99
ISBN 978-1-894666-20-6
Retail Price: US$12.95
#4
For the Heart of Holland
by Piet Prins
General Valdez had mercilessly surrounded Leiden with his Spanish troops. Rather than attacking the city, he let a different weapon do the work. This weapon was hunger. Hardly anyone could get into the city or out of it, and the hunger, together with the black death wreaked death and sickness among the citizens.
Elisabeth Govaerts was having trouble keeping her father and brother as well as their lodger Boudewyn fed and in good shape. It was therefore a feast when Martin Meulenberg managed to creep through the Spanish fortifications and bring Elisabeth food. But the time was short since Martin wanted to join the Sea Beggars again. He left the city with reports of starving people. Even so, the Prince of Orange was doing his best to free Leiden. But even after the dykes had been breached by the Sea Beggars the water would not rise, and thus the Sea Beggars could not sail into Leiden to liberate it. Help seemed impossible.



Buy all Four Books in the Struggle Series and save 15%.
Normal Price: US$48.75
Special Price: US$41.49

About the Author
Piet Prins (pen name for Pieter Jongeling 1909-1985)

Mr. Jongeling was born in the northern part of The Netherlands and studied to become a teacher. He indeed did teach for some years, but soon became the international correspondent of a Dutch newspaper. In 1942 he was arrested by the Germans and sent to a concentration camp. After the allied victory in 1945 he returned to The Netherlands and became one of the most important journalists and politicians in The Netherlands. For many years he was the editor of a Reformed Christian daily newspaper, in which he wrote most of his children's books as serials under the name Piet Prins. The first thing many people read when the newspaper arrived was these serials. In 1963 Mr. Jongeling became member of the Dutch parliament for the Reformed Political Alliance. One commentator mused: "What makes Jongeling such a remarkable parliamentarian? That's simple. The man works like a horse! He is always fully informed. When Jongeling speaks, the house listens."

Both as a journalist and a statesman, Pieter Jongeling knew himself bound by the inspired Word of God and as such his labour has born much fruit.