Annie Kate Aarnoutse published the following Reviews on her blog,
Tea Time with Annie Kate:
(links to shopping cart and some more info on some books have been inserted)
http://anniekateshomeschoolreviews.com/2011/08/the-governor-of-england-by-marjorie-bowen/
OLD U.S. PRICES
Review: The Governor of England by Marjorie Bowen
King Charles I of England had governed "nine years without a Parliament, contrary to the laws and ordinances of the realm of England." As liberties, both religious and civil, were being threatened, one farmer, Oliver Cromwell, was called in a vision to be "servant in this work which is to be done in England." God's
Over the course of many years, Cromwell humbly followed this vision as it was unfolded for him, step by step and often against his personal wishes. Although he labored to save the King, strove for tolerance, and wearily longed for a peaceful life on his farm, these things were not to be. The King was beheaded; other Englishmen did not believe in tolerance; and rather than retire to his own farm, he become Lord-Protector of England. Following Cromwell on his fascinating journey, we meet many of the great men and women of the time, and some of them we actually get to know.
Marjorie Bowen traces the tumultuous Cromwell years with her usual accuracy and attention to detail, clearly showing the difficulties of governing England during the mid-1600's. Although this book is about Cromwell, she portrays both King Charles and Cromwell as complex persons, each with serious flaws as well as greatness. Charles was underhanded and unreliable in many ways but willing to defend, to the death, his belief in the Church of England and his own divine right as king. Cromwell, a man led by visions and revelation, ended up, quite inconsistently, almost replacing Charles in position and actions. Truthfully, however, this was never Cromwell's goal, and he reached it reluctant step by reluctant step until there was no turning back.
Obviously this novel is full of religious and theological ideas. Bowen presents Charles's steadfastness in his two great beliefs. She also tells of Cromwell's spiritual struggles and triumphs, attributing his spiritual agony to his Puritan faith. I have an uneasy feeling that Bowen subtly mocks Cromwell's visions, speeches, and beliefs; perhaps it is just that his earnest words, a mix of Biblical prophecy and personal ideas, sound amazing to our modern ears.
This is an excellent fictionalized biography but, despite the subtitle, I would hesitate to call it a novel. True, it is full of excitement, but there is really no plot. Besides, there's no one to love in the book except for Cromwell's daughter Elisabeth, a minor character whose terminal illness Bowen attributes to dismay at all that is happening around her.
The Governor of England is an invaluable addition to any study of English history. It balances the more popular approach in which Charles is idealized and Cromwell vilified. I'm thankful to have read it twice, since it teaches so much about life and human nature as well as about history.
The Governor of England: A Novel on Oliver Cromwell, originally published 1917, has been reprinted by Inheritance Publications.
http://anniekateshomeschoolreviews.com/2011/09/review-the-soldier-of-virginia-a-novel-on-george-washington/
-----------
The Governor of England by Marjorie Bowen
A Novel on Oliver Cromwell
An historical novel in which the whole story of Cromwell's dealings with Parliament and the King is played out. It is written with dignity and conviction, and with the author's characteristic power of grasping the essential details needed to supply colour and atmosphere for the reader of the standard histories.
Time: 1645-1660 Age: 14-99
ISBN 0-921100-58-2 $17.95
-----------
Review: The Soldier of Virginia, A Novel on George Washington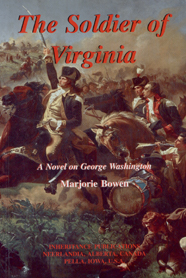 While delivering a message to the French—a message that meant war—young George Washington encountered a sad French beauty whom he was destined to meet again. However, his heart was all for the lovely Martha Dandridge of Williamsburg. too, but because he did not dare show her his feelings before he went off to fight the Martha loved him French, she married another man….
In battle after battle, using both guns and his pen, Washington served his country. How he grew in fame and experience while death took so many others, how he rescued an orphan baby and his fondest dreams at the same time, and how he loved and trusted those who betrayed him, form a moving story.
Marjorie Bowen, a prolific author of early twentieth century, obviously admired Washington deeply. Without slowing the pace of the story, she described the characters and their emotions in dramatic and flattering detail. Bowen's skilful portrayals of Washington's wife Martha, his friend Benedict Arnold, and his adopted daughter Hortense add deep human interest to this portrait, and we learn that human nature has not changed.
As a Canadian, I knew little about George Washington's private life before reading The Soldier of Virginia, but now I am eager to learn more. This is novel would be an excellent supplement to an American history course, but can also be read purely for pleasure.
The Soldier of Virginia: A Novel on George Washington is available from Inheritance Publications.
http://anniekateshomeschoolreviews.com/reviewsandmore/2010/10/review-rob-and-roland-readers/
-----------
The Soldier of Virginia - A Novel on George Washington by Marjorie Bowen
"Mr. Washington and who is Mr. Washington?"
"It is the Governor of Virginia's envoy, Monsieur bearing a letter from his Excellency."
St. Pierre gave his inferior officer a quick glance; two things occurred to him: the first was that Dinwiddie must be serious if he had sent a messenger in such weather; the second was that it would have been more courteous if the envoy had been a man of some rank; he remarked on neither of these things, but quietly requested that Mr. Washington should be brought into his presence.
The scene was St. Pierre's room in the newly erected Fort le Bœuf; December cold filled the apartment despite the huge fire of logs that roared on the hearth; and the view from the window was of a frozen lake, great trees against a drab sky, and the steady falling of snowflakes.
Originally published in 1912, this is a fictionalized biography on America's first President by one of the best authors of historical fiction.
Time: 1755-1775 Age: 14-99
ISBN 0-921100-99-X $14.95
-----------
Review: The King's Service by Deborah Alcock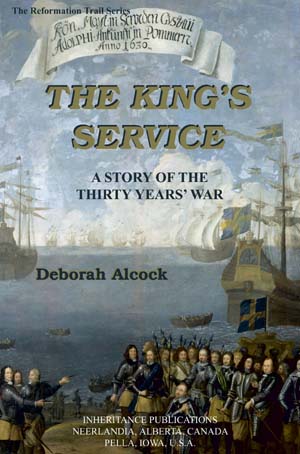 When wild Charlie Graham makes the first solid decision of his life and signs up to fight for the Protestant cause in the concern is to care for his brother's motherless Thirty Year's war, his main children, Jeanie and Hugh. To Jeanie's delight, she is not separated from her little brother, now a page, but also travels to the continent. There her Scottish soul finds much that is difficult to understand, especially the despairing sadness of her new friend Fraulein Gertrud.
Hugh, on the other hand, is thrilled when his uncle enlists under the great king Gustavus Adolphus. Eventually, he finds Jeanie back and is welcomed into the Lubeling family where Jeanie and Fraulein Gertrud are guests. Gentle Jeanie's earnest prayers, Jesuit treachery, and Hugh's foolishness bring unexpected joy into their world despite the tragedies surrounding them.
The King's Service moved me in many ways. First of all, the story itself was deeply satisfying. Furthermore, I was fascinated by the Jesuits' struggle for the soul of a Protestant starved for beauty; saddened by the death of the great king Gustavus Adolphus; and comforted by Jeanie's steadfast faith.
Writing from a strong Protestant viewpoint, turn of the century author Deborah Alcock accurately portrayed life in northern Europe during the early 1630's. If you are looking for a fascinating and inspiring novel about the Thirty Year's War, I highly recommend The King's Service. This 180-page paperback, suitable for ages 12 to adult, is available from Inheritance Publications .
http://anniekateshomeschoolreviews.com/2011/03/review-the-kings-service-by-deborah-alcock/
-----------
The King's Service by Deborah Alcock
A Story of the Thirty Years' War
Once again Deborah Alcock has delicately woven together an accurate historical novel. This book gives wonderful insights into some of the events surrounding the thirty-years-war in which Gustavus Adolphus of Sweden gives his life for the Protestant cause. But even amidst the ravages of war life continues to weave its story of intrigue, romance, loyalty, and treason.
Two motherless children, Jeanie and Hugh, have been in the care of their Uncle Charlie ever since their father left about eight years earlier to fight for the Protestant cause. Uncle Charlie, a restless bachelor, subsequently leaves the bulk of Jeanie and Hugh's upbringing to the Presbyterian minister. He faithfully teaches these orphaned children the beautiful tenants of the Reformed faith. But when Uncle Charlie decides to leave his beloved Scotland to join the army of Gustavus Adolphus in Germany, Hugh wants to go along. Jeanie will go along as companion to Captain Stuart's wife and meets Fraulein Gertrud von Savelburg in Germany. Sifting through the reports and rumours of the times she comes to some disturbing and perplexing conclusions. What has made Uncle Charlie so sad, and why does a Roman Catholic priest regularly visit Hugh? And then there is Jonker August von Lübeling, a page of Gustavus Adolphus, who alone knows the true reports of the King's last hours. He promises Jeanie a Nuremberg egg, but not understanding German ways she misconstrues the meaning of this promise. Will she accept his precious gift?
Time: 1630-1632 Age: 12-99
ISBN 978-1-894666-06-0 $9.95
-----------
Review: The Czar by Deborah Alcock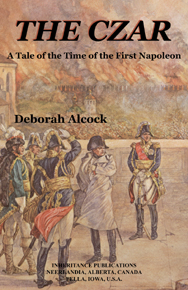 Twelve year-old Ivan, disputing with Michael over the privilege of swinging with pretty Anna Popovna, was abruptly put face to face with his past. Who was he? Why did all the villagers treat him differently? And what could he do to win Anna's out on a mission to surpass his rival, he watched a wondrous man revive a drowned favor? As Ivan set carpenter, assumed dead, and his life was forever changed.
When Ivan eventually took his place in high Russian society, he discovered that his boyhood hero was none other than Czar Alexander himself. Ivan dedicated his life to the Czar and served him heroically from Moscow to Paris and back to Russia.
Through the eyes of Ivan and of Henri, a reluctant supporter of Napoleon, we follow the story of Czar Alexander and the disastrous fate of Napoleon's army. We read about Anna Popovna as well as other gentle and inspiring ladies, discover Ivan's past and, through it all, get to know the admirable Czar. Alcock's thrilling novel about war and faith, young men and maidens, France and Russia, shows us history as well as ourselves.
The Czar: A Tale of the Time of the First Napoleon by Deborah Alcock provides quality entertainment while drawing the reader closer to God. Exciting, historically accurate, and deeply religious, The Czar is a must-read for any student of European history and is recommended to all teens and adults.
This book is available from Inheritance Publications.
http://anniekateshomeschoolreviews.com/2011/05/the-czar-by-deborah-alcock/
-----------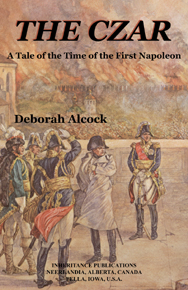 THE CZAR by Deborah Alcock
A Tale of the Time of the First Napoleon
As, with a hand still trembling, Clémence poured out the tea, she remembered the stories she had heard of such evening visits made by the Czar, "to talk at his ease," and recalled the words of De Maistre when someone criticised this habit in his presence: "It is a touching thing to me to see the ruler of a great empire, in the age of all the passions, find his recreation in taking a cup of tea with an honest man and his wife."
Ivan Ivanovitch Pojarsky, an orphaned Russian Prince, adopted by loyal people in the village of Nicolofsky meets the great Czar Alexander of Russia while the Czar does his best to bring back to life a seemingly dead carpenter. This historical fact, and many others related in this captivating story, gives a very accurate picture of the life in Russia during the time of Napoleon.
Time: 1795-1825 Age: 14-99
ISBN 978-1-894666-11-4 $19.95
-----------
Review: By Far Euphrates by Deborah Alcock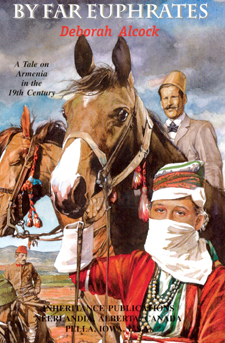 Young Jack travelled to Armenia with his beloved father who hoped to find ancient manuscripts, a passion that resurfaced after his wife died. Father and son, Christians, took rooms with Armenian Christian families who nursed them when the dreaded fevers struck.
Jack became one of the family, in sorrow as well as joy. His English heart could not accept the comprehensive and minute persecution that filled the lives of his new friends, including the beautiful Shushan who lived under the constant threat of being snatched into a Turkish harem. When the ultimate danger threatened, Jack offered an amazing and satisfying solution…until the Turkish persecution began in full force.
This moving story, full of deeply-grounded faith, follows Jack and his adopted race through disease, joy, danger, sadness, and unbearable suffering. It is almost impossible to put down this well-crafted novel and, even though it is full of evil and sadness, the central message is one of faith, hope, and trust.
Although Jack is a fictional character, each of the experiences of his Armenian friends is modeled on real-life happenings. At the cost of her own health, Deborah Alcock, a beloved novelist and a contemporary of this 19th century massacre, wrote By Far Euphrates to raise support for Christian Armenians—the orphans, the widows, and the few mutilated, surviving men.
Because she wanted to focus on the peace God granted the martyrs, Deborah Alcock veiled the horrors in her novel. Furthermore, she understood those who say, "We will not read about this subject; we will not think of it. It is too horrible. … We cannot take up this burden in addition to the rest. It would sink us." Those who, for this reason, decline to examine the evidence themselves "ought to accept the conclusions of those who have." The conclusion Miss Alcock reached, and ably promoted in her novel, was that we may not let the dependents of martyrs suffer if we can help them.
This book is not an easy read, but perhaps a necessary one for Christians, especially considering how many of our brothers and sisters in the faith still do suffer. Obviously it is not suitable for young teens, but older teens and adults will find their faith strengthened and their own troubles put into perspective.
We know of persecution in many parts of the world. As Deborah Alcock acknowledged, you may, in the face of your current responsibilities and burdens, not be able to be personally involved in alleviating the horrors of modern persecution. However, organizations such Voice of the Martyrs will show you how to pray and help.
This book is available from Inheritance Publications.
http://anniekateshomeschoolreviews.com/2011/06/review-by-far-euphrates/
-----------
By Far Euphrates by Deborah Alcock
A Tale on Armenia in the 19th century
Alcock has provided sufficient graphics describing the atrocities committed against the Armenian Christians to make the reader emotionally moved by the intense suffering these Christians endured at the hands of Muslim Turks and Kurds. At the same time, the author herself has confessed to not wanting to provide full detail, which would take away from the focus on how those facing death did so with peace, being confident they would go to see their LORD, and so enjoy eternal peace. As such it is not only an enjoyable novel, but also encouraging reading. These Christians were determined to remain faithful to their God, regardless of the consequences.
Time: 1887-1895 Age: 11-99
ISBN 1-894666-00-3 $14.95
-----------
Review: Two Novels on William the Silent by Marjorie Bowen
William the Silent, father of the Netherlands, believed that "The mind and soul are not in the keeping of king nor priest—no man has a lordship over another man's conscience. All history has proved that."
Through the eyes of a Renee, a waiting-woman, Marjorie Bowen paints the heroic life of William the Silent, Prince of Orange against the backdrop of splendor, intrigue, persecution, and war that characterized Europe in the mid-1500's.
Prince and Heretic: A Novel on William the Silent, Prince of Orange Nassau, Volume 1
Renee, an attendant of William's wife, the unbalanced Anne of Saxony, is herself an orphan of persecution. She and many others depend on William to defend them against the atrocities of the Spanish king Phillip II. While his home life disintegrates and his followers foolishly taunt the authorities, William of Orange and his brothers shoulder the immense burden of caring for the harassed people of the Low Countries. William loses all for the cause, but it seems that his sacrifice is in vain.
William, by the Grace of God: A Novel on William the Silent, Prince of Orange Nassau, Volume 2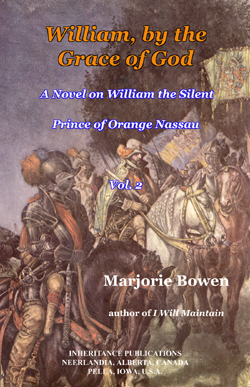 William, poverty stricken and in disguise for fear of Philip's agents, returns to Germany where he encounters Renee, now serving Princess Charlotte de Bourbon, a runaway abbess. Constantly struggling to protect the oppressed people of the Netherlands and encouraged by supporters such as Renee and Princess Charlotte, William finally begins to see results of his efforts. As the news of the St. Bartholomew's Eve massacre and Philip's increasing cruelty reaches them, the Dutch rally to their leader. Although Philip puts a price on his head, William seems indestructible and his work progresses despite staggering losses. He marries the gentle Charlotte and finds happiness until the next great tragedy strikes. Will William succeed in giving the Netherlands a stable beginning before Philip' assassins find him?
With painstaking attention to historical detail, sumptuous descriptions, thoroughly human characters, and a fast-paced story, Marjorie Bowen draws us into the life of one of the world's great heroes. The author's sympathies are obviously with William himself and, rather than choosing sides in the religious struggles, she seems to espouse the tolerance that her hero sacrificed all for. I highly recommend both Prince and Heretic and William, by the Grace of God as absorbing novels and as fascinating history.
About the Author
Marjorie Bowen was a prolific and popular British author in the early 1900's. Although she wrote in many genres, the bulk of her writing focused on history: historical romances, popular history, and biography.
To order
Both Prince and Heretic and William, by the Grace of God are available from Inheritance Publications.
http://anniekateshomeschoolreviews.com/2011/04/review-william-the-silent-by-marjorie-bowen/
-----------
Prince and Heretic by Marjorie Bowen
A Novel on William the Silent vol. 1
Time: 1560-1568 Age: 13-99
ISBN 978-0-921100-56-0 $17.95
William by the Grace of God by Marjorie Bowen
A Novel on William the Silent vol. 2
Time: 1569-1584 Age: 13-99
ISBN 978-0-921100-57-7 $17.95
-----------
Review: A Trio of Huguenot Stories
The Baron of Salgas: A True Huguenot Story by Sabine Malplach
Not long after adjusting pyramids of fruit in the chateau's dining room before an important dinner, beautiful Lucrece married the most distinguished of her father's guests, the Baron of Salgas. She became mistress of his great estates in the Cevennes Mountains, and soon children were born to the happy Huguenot couple. After a time, however, their children were taken away, one by one, to be raised as Catholics. As circumstances worsened, Lucrece kept urging her husband to flee but, chained to his wealth, he remained optimistic that conditions would improve.
More gripping than fiction, this well-written narrative tells how Lucrece left all behind and fled to avoid denying her Savior, and how her husband finally came to faith through mistreatment that generated outrage among European royalty. Quiet heroism, faith, love, and hope all combine in this moving vignette.
The Baron of Salgas shows the struggles of conscience of the French nobility as they debated whether it was right to leave their king, though he was persecuting them, and flee to safety. It shows how the chains of wealth and estates made it easy for many to renounce their faith. It shows the cruelty of Louis the Magnificent, as he systematically destroyed his country by depriving it of some of its greatest citizens. Above all, it shows God's goodness as He strengthened and comforted those suffering for Him.
—
The Cross and the Crown by Deborah Alcock
Young Gabriel de Vaur and his adored twin sister Desiree enjoyed a happy and sheltered childhood in their ancestral chateau in Normandy. Gradually even they became aware of the troubles Huguenots faced. And then, on one terrible day, all the disasters looming over them became a reality. Their dear sick mother died and, to Gabriel's horror, their father thanked God for her death, because that same morning he had received a letter telling him who were galloping toward their chateau at that very moment.
What happened to the family when the brutal dragoons arrived? Gabriel had an opportunity to escape, but would he succeed in freeing his sister? Would any of the family be able to slip out of France into freedom?
This touching story of the dark days of Huguenot persecution brings joy as well as tears, and makes me so grateful for the peace and safety in which we live. May the Lord bless all His suffering people throughout the world and may He fill us with love for Him.
—
The Carpenter of Nimes by Deborah Alcock
Show me the man who performs every little daily task as to the Lord, and I will show you one who will not fail when called to do or to suffer greatly for His sake.
After the martyrdom of his brother, young Jacques was distraught. Why had his godly brother, who helped so many with his Bible knowledge, been killed and he himself been left alive? An old pastor reminded him that God could use him, a carpenter, as well, and exhorted him to be faithful in his calling. Jacques found some comfort in caring for the family of his brother's beloved, but he still waited to see how he was to serve the Lord.
How God eventually used this simple carpenter to bless the city of Nimes makes a thrilling story.
—
While reading this collection of stories, I was moved by the faithfulness of the godly Huguenots and by the comfort God gave them even in dreadful circumstances. Miss 13, who has read these stories many times, is astonished at how differently we enjoy this book. She loves it for the godly stories, the heroism, and the excitement. This book would make an excellent addition to the library of any family that sympathizes with the Huguenots, and is a memorable homeschool resource as well.
Obviously, since these stories are about Huguenots facing persecution, they may make people of certain traditions uncomfortable. However, history is history. May we all learn from the past.
Note: These stories of trials and persecution were written vaguely enough to be suitable for ages 13 and up. In fact, I think they are less intense for young people than for adults who can actually understand the atrocities that were committed.
This book, as well as others in the Huguenot Inheritance Series, is available from Inheritance Publications
http://anniekateshomeschoolreviews.com/2010/12/review-hugenot-stories/
-----------
The Baron of Salgas A True Huguenot Story by Sabine Malplach
and: The Cross and the Crown & The Carpenter of Nîmes
Two Huguenot Stories by Deborah Alcock
The Cross and the Crown tells about a man by the name of Gabriel Vaur. After the Revocation of the Edict of Nantes (1685), life once again became very dangerous for the Huguenots in France. When the Dragonnades came, Gabriel tried to get help, leaving his father, sister, and brother behind. Would he ever see them again? Would he ever be able to flee France and reach England?
The Baron of Salgas is the true story of the Baron and Baroness de Salgas. Even though her husband forbids her to be an open Huguenot, the Baroness knows that her Saviour had said that whoever would deny Him would be denied by Him. So one night she made her escape to Geneva. Would her husband follow? Would he recant? What would happen to their sons who were taken to the convents?
The Carpenter of Nîmes goes back more than a century to the year 1569 and tells about a man named Jacques Maderon. When the pastor tells him that Christ had said, "Son, go work today in My vineyard," he knows it is time to do something. Then the father of his friend was imprisoned. Would he succeed to cut the bars of the gate and so make way for the Huguenots to enter the city and deliver it?
Time: 1568-1715 Age: 13-99
ISBN 978-0-921100-69-0 $14.95
-----------
Remembrance Week Review: The Lonely Sentinel by Piet Prins
by Annie Kate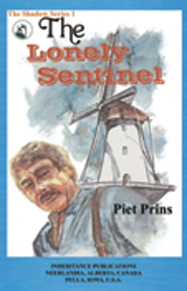 When impetuous Dirk, a Dutch grade four student, unwittingly antagonized a Nazi sympathizer on the way home from school, he and his older brother Frans were saved by their father's long-lost friend. The boys delivered many mysterious messages between him and their father throughout that cold winter. As their family's windmill became home to more and more secrets, the parents prayerfully allowed 17 year old Dries to follow his heart in service to God and his fellow-man. Danger, hair-raising escapes, faith, secret meetings, compassion, and hilarious mishaps make The Lonely Sentinel a book we read over and over.
During the Nazi occupation Dutch people had to summon up courage to do right at great risk to themselves and their families. In The Lonely Sentinel Piet Prins gives us a glimpse of how a Christian family came to live the lives of unsung heroes, one inevitable decision at a time. Subsequent books in the thrilling Shadow Series continue to show the dedication and deep faith that characterized so many ordinary people during the war.
The Lonely Sentinel is an exciting but realistic story with moments of humor as well as tension. It was very difficult to put down. When I finished reading its 140 pages to the children (for the second time in a few years), they begged me to continue with the next books in the Shadow Series. Our family highly recommends all of them.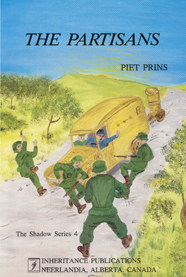 Although I read The Lonely Sentinel to all my children including Miss 8, there are some intense scenes in later books that would not be suitable for such young children. Obviously, older children and teens will grasp the subtleties of the story better than little ones, but my young children also thoroughly enjoyed it both times I read it aloud.
The Lonely Sentinel by Piet Prins is available from Inheritance Publications for $8.90; if you buy the whole Shadow Series you will receive a 15% discount. (Note: you will need to scroll half way down the page to find this book.)
http://anniekateshomeschoolreviews.com/2010/11/remembrance-week-review-the-lonely-sentinel/
-----------
Time: 1944-1945 Age: 10-99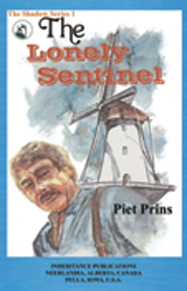 The Shadow Series by Piet Prins
(Place order for set of 5 and save 15%)
SET OF 5 SHADOW SERIES - REG. 49.75 - PRINS, PIET - set - $ 42.30
prices no longer valid
Vol. 1 The Lonely Sentinel ISBN 1-894666-72-0 $9.95
Vol. 2 Hideout in the Swamp ISBN 1-894666-73-9 $9.95
Vol. 3 The Grim Reaper ISBN 1-894666-74-7 $9.95
Vol. 4 The Partisans ISBN 0-921100-07-8 $9.95
Vol. 5 Sabotage ISBN 0-921100-08-6 $9.95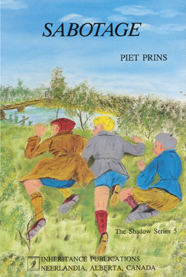 Rob and Roland Readers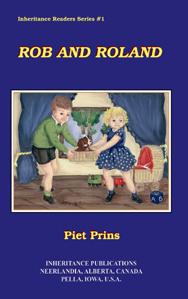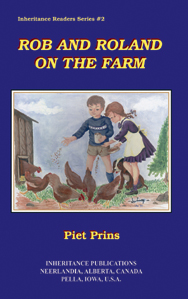 How often haven't I opened an easy reader at the library and returned it to the shelf in disgust! Many of them are silly, and some are also ugly. That's why I'm so pleased with these two little books about the adventures of Rob, a grade two boy living in the Netherlands.
Rob and Roland on the Farm
Rob and his dog Roland spend a few days on Uncle Dirk's farm with cousin Nanna. After Roland frightens the cows during milking, Rob worries that Uncle Dirk won't like his dog. Children will love to read how Roland turns out to be a hero after all.
These sweet little hardcover books, written at a grade two level, will be sure to captivate the early readers in your family. Author Piet Prins understands children very well, and his stories have just the right blend of tension, humor, and exploration. They also are undeniably Christian in a refreshing, matter-of-fact way.
The Rob and Roland stories are the first two Piet Prins titles in the proposed Inheritance Reader Series. Paulina M. Janssen, a homeschooled teen, has done a remarkable job translating from easy-reader Dutch to easy-reader English while keeping the charming flavor of old-fashioned Dutch life.
To see if these books would appeal your children, check out the table of contents and the first chapter of each book at the Inheritance Publications website. You can also buy the books there for $6.90 US each.
Disclosure: I received Rob and Roland from Inheritance Publications in order to review it. We already owned Rob and Roland on the Farm. My reviews represent my honest opinions and I am not compensated in any way.
Rob and Roland by Piet Prins
Inheritance Readers Series #1
Subject: Fiction Age: 7-8
ISBN 978-1-894666-32-9 $7.95
----
Rob and Roland on the Farm
by Piet Prins
Inheritance Readers Series #2
ISBN 978-1-894666-33-6 $7.95
-------
Review: Bobby's Friends! by Phia van den Berg
Aug 17th, 2010 by Annie Kate.
http://anniekateshomeschoolreviews.com/2010/08/review-bobbys-friends-by-phia-van-den-berg/
Bobby and his siblings were full of excitement when they finally flew from their home country, the Netherlands, to Pakistan. Although they were used to adapting to different cultures because of their father's flood control work, settling into Pakistan in the 1950's proved to be a challenge. Ten year old Bobby really struggled to understand the boys he met: wealthy Sadiq, subservient Jahja, mud-slinging Mahmoud, and others. Dignified Hafiz, who ran the house, also had secrets. Just as Bobby was adjusting to life in his new town, he was caught up in a dangerous mystery and his friendships took on life and death significance.
I've devoured Bobby's Friends! by Phia van den Berg twice in the last month. Now I'm reading it aloud to the children. The little ones laughed when Bobby confronted spoiled Sadiq during a tantrum, frowned when boys threw mud and manure at Bobby's mother, and sighed longingly about the camel ride. Even my older children are enjoying the story, although it is clearly not written for teens.
Besides being a well-written children's book with some thoroughly lovable characters, Bobby's Friends! is also an insightful look at how culture shapes behavior. Children enjoy it for the excitement and the humor, but any parent who reads it out loud will be moved by natural way that Bobby's parents relate cultural issues to God's Word. I understand why Bobby's Friends! is the publisher's favorite juvenile story.
Although the original Dutch version of this book was written in the 1950's, the appeal of the story is still strong, and the message of the book still valid. As Mother said to Bobby in a serious moment, "Besides our normal work, there is also the task we have as Christians toward everyone God puts on our path. And that task becomes doubly heavy when we stand before someone who does not know the Lord Jesus. We are His messengers, and if we pass on His message in a wrong manner, it would be better if we had stayed home, right?"
I highly recommend Bobby's Friends! both as an exciting story as well as a vivid illustration of Christian living in a different time and place. It has exactly the right combination of humor, excitement, and reflection for reading out loud to a wide range of ages. On the other hand, most nine year olds could easily read it on their own.
Bobby's Friends, recommended for ages 9 and up, is available in paperback from Inheritance Publications for $9.95.
(When you order this book, also be sure to request the free catalogue, available near the bottom of the home page. It contains a complete translation of a best-selling Dutch youth adventure that I read many times as a youngster and that my children now also enjoy. )
-----------
Bobby's Friends by Phia van den Berg
The publisher's most favourite juvenile story
Subject: Fiction Age: 9-99
ISBN 9780921100515 $9.95
-----------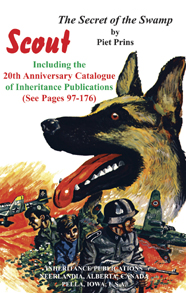 Review: The Scout Adventure Series by Piet Prins
Sep 30th, 2010 by Annie Kate
http://anniekateshomeschoolreviews.com/2010/09/review-the-scout-adventure-series-by-piet-prins/
After very busy days, I've been slipping into the Dutch countryside of dunes, mills, castles, canals, and swamps with teenaged Tom, his amazing dog Scout, and his two friends Carl and Bert. In Piet Prins's seven-book Scout series, Tom and his friends help free their village from the Nazis, save lives, track down smugglers, burglars, and poachers, and get themselves into many other dangerous adventures. The friends are authentic Christians as well as adventuresome boys. They try to obey their parents, struggle with their consciences when tempted to do wrong, depend on God, and treat the everyday details of Christian living matter-of-factly. I love being able to hand my children thrilling books with good morals, language, and worldview.
Piet Prins, Christian, concentration camp survivor, teacher, politician, and best-selling Dutch author, wrote these fast-paced novels many years ago, but they are still beloved today. English translations are available from Inheritance Publications.
Scout: The Secret of the Swamp
Only a year after the end of World War Two, Tom, his friends, and his sisters are invited to vacation at a Dutch farm near the German border. Scout, Tom's well-trained dog, accompanies them on their rambles through the woods and to the mysterious castle ruins nearby. In fact, due to Scout's keen nose, the teenagers are able to help the police in their search for robbers and a large smuggling ring. When Tom takes things into his own hands he finds both excitement and terrible danger.
This exciting story is full of elements of everyday Christian life. Bible reading, prayer, trust, repentance, obedience, and church attendance are not discussed but rather mentioned in passing as parts of everyday life. The castle's ancient mystery brings reformation times to life, but even this is quickly pushed aside by present excitement. This matter-of-fact approach to Christianity is refreshing different from mainstream evangelical youth literature where faith is either the main focus or an obvious addition to a rather secular story.
Scout: The Flying Phantom
After completing their school year, Tom and his friends, with Scout of course, set off for a sailing trip through the Dutch canals and lakes. When the three boys meet some characters who live in a horse-drawn caravan, their troubles begin: they are thrown in jail for a crime they didn't commit. From one dangerous adventure to another, the boys race through the lakes to clear their names and find the true criminals.
I loved sailing along with the boys, enjoying their cooking and the people they meet. When it got to the adventures, however, I was very glad this is fiction! Again Piet Prins portrays Biblical values and lifestyle in an exciting story without being either preachy or unrealistic.
Scout: The Treasure of Rodensteyn Castle
This time Tom, Scout, and their two friends are spending a holiday at Uncle Kees's farm in the Dutch countryside. They help with the haying, discover an abandoned mill, take care of Aunt Lena's menagerie, and befriend Dick, a young boy whom Scout saved from drowning. They also meet a nasty man with an even nastier dog. Unexpectedly the nasty man not only knows Dick, but also about the treasure his family lost during the war. Inevitably, Tom and his friends are drawn into danger while trying to find the treasure before Mr Nasty does.
I found this novel very exciting, and am glad my children do not get into the situations that Tom, Carl, and Bert get into. The three friends are so eager to do good that they recklessly get themselves into trouble again and again.
Scout's Distant Journey
Tom and his friends unexpectedly bump into Tom's long lost Uncle Bob and soon realize that they have found a fascinating relative. Uncle Bob has lived an adventurous life and, to the boys' frustration, thinks modern youth are pampered. When the boys are invited to visit the castle Uncle Bob and Aunt Alice are renovating, they try to prove their toughness by walking the enormous distance rather than taking the train. Unfortunately, one disaster after another overtakes them. Most unnerving of all, Scout no longer reliably warns them of danger.
This well-written story clearly conveys the frustration the boys feel when they seem helpless against injustice and evil. It also portrays the exhilaration they experience when they make their own way and the joy of meeting fellow Christians on their travels.
Our Opinions
Even after completing all of these books in a month's time, I'm still not tired of the adventuresome friends and their amazing dog, Scout. My children and I love these books and we recommend them highly. The Scout Series would make a great Christmas gift for anyone age nine or older.
Note that the first book, The Secret of the Swamp, contains the Inheritance Publications Catalogue and is free with any order.
Disclosure: I received The Sailing Sleuths and the Mystery of the Abandoned Mill from Inheritance Publications for the purpose of this review. Four of the other books are from our personal library and one is from our church library.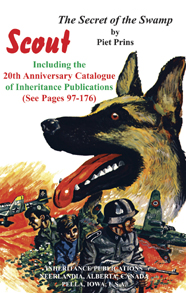 Add your free copy (or multiple copies)
of Scout: The Secret of the Swamp
(Reg. $9.95)*
* You need to order at least one other book per free copy
(Place order for set of 7 [includes free copy of The Secret of the Swamp] and save 15%)
SET OF 7 SCOUT BOOKS - REG. 59.70 - PRINS, PIET - set - $ 50.75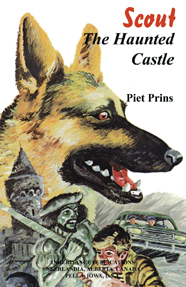 Scout: The Haunted Castle by Piet Prins
Tom and Scout are on vacation with Tom's two best friends, Carl and Bert, and his sisters, Ina and Miriam. On their rambles through the woods, the group of young people are stopped one day by customs officials. They are accused of being in league with a gang of criminals who are smuggling goods across the nearby German border. Scout's reputation as a tracking dog has preceded him, and soon the young people are helping both the police and the customs officials. The mystery of the haunted castle, a coded message hidden under a tree, a gang of smugglers that can vanish at will, a burglary without clues — they all come together when Tom and Scout tumble over a four-hundred-year-old secret. Suddenly, however, Tom is no longer looking for adventure but fighting for his very life.
Subject: Fiction Age: 9-99
ISBN 1-894666-44-5 $9.95
Scout: The Flying Phantom by Piet Prins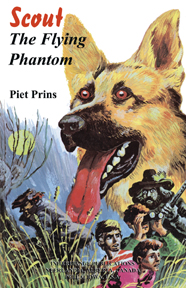 When Tom and his friends Bert and Carl set out on an adventure over spring vacation, they are only looking for a good time. But soon a series of baffling events draws them inexorably into another mystery.
What connection is there between a dangerous poacher, a police cap on top of a tower, a host of unsolved burglaries, and a mysterious fire? Is the fearsome character who walks on the swamp the ghost of the legendary Flying Phantom? Or is it something or someone else?
Join the boys, Tom's dog, Scout, and their mutual friend Captain Brandenburg as they muster courage, tenacity, and wit to track a very unusual kind of criminal.
Subject: Fiction Age: 9-99
ISBN 1-894666-45-3 $9.95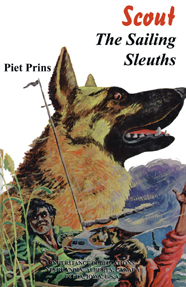 Scout: The Sailing Sleuths by Piet Prins
While Tom and his two friends are making plans for a vacation, Carl's father announces that he has acquired a sailboat, as part of a business deal. The three boys see the chance for a very unusual holiday.
Their peaceful sailing trip is sabotaged when they run into a gang of notorious carnival followers who put on sidewalk shows as a cover for more profitable sidelines. After a confrontation with the gang, the three sailors and Scout find themselves in trouble with the police. Their attempt to clear themselves leads to a wild chase through rivers, canals, and lakes. When at last the boys come face to face with the gang and its ruthless leader, they are stranded on an island in the middle of an isolated lake. In the showdown they are all alone — except for Scout.
Subject: Fiction Age: 9-99
ISBN 1-894666-46-1 $9.95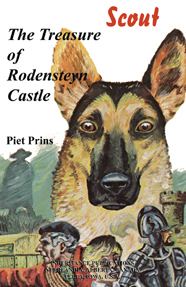 Scout: The Treasure of Rodensteyn Castle by Piet Prins
When they are invited to spend a few weeks with Uncle Arnie at the seashore, little do Tom, Carl, and Bert realize that they will be staying in the hunting lodge of a medieval castle. Uncle Arnie is quite a storyteller. Soon the boys find their imaginations and the lodge peopled with ghosts from Rodensteyn Castle, a castle long ago buried under the sand. But do ghosts leave tracks, tracks that Scout follows into the sea? Are the legends of the ghost of Sir Isobald and the treasure of Rodensteyn Castle true? Is it a ghost that Tom spots in the dunes at night? Can Scout's nose, no matter how keen, help the boys solve a mystery over 400 years old? Past and present, fact and fiction merge as Tom and his friends search for a treasure that has outlasted the ages.
Subject: Fiction Age: 9-99
ISBN 1-894666-47-X $9.95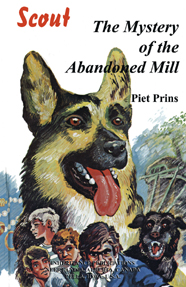 Scout: The Mystery of the Abandoned Mill by Piet Prins
Tom, Carl, and Bert are spending the summer on the farm. One day they run into a large, surly man with a black monster of a dog. Scout and the black dog are enemies at first sight. The man arouses the boys' suspicions at once. He is no ordinary vacationer. When Scout pulls a boy from the river, the boys make a friend. From the boy's mother they hear a story about the abandoned mill and a missing treasure. The story draws them into an adventure that sets the boys on a collision course with the dangerous man and his equally dangerous dog. Trying to play the master detective, Tom leads his friends into a desperate situation. Can they stop Scout from clashing with the powerful black dog as he rushes to their aid? After all their hard work, will the boys lose the treasure after all? Worse yet, will the crook decide to kill the only witnesses to his crime?
Subject: Fiction Age: 9-99
ISBN 1-894666-48-8 $9.95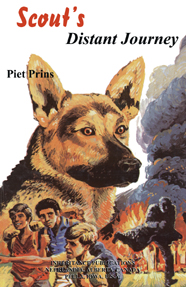 Scout's Distant Journey by Piet Prins
Scout's seventh adventure reacquaints us with his three friends and introduces some new characters. One is Uncle Bob, long absent in North America but now back in the old country where he and his wife settle into a small but honest-to-goodness castle! Naturally Tom and his friends, including Scout, are invited to spend the summer holidays at Uncle Bob's intriguing house. Actually, the invitation is more like a challenge: Uncle Bob pretends to have a low opinion of "modern youth;" he thinks they're soft and over-pampered. To prove him wrong, Tom and his friends decide to travel on foot. But on the journey, little goes right: disasters dog their footsteps and danger is their constant companion . . . Their arrival marks both victory and defeat . . .
Subject: Fiction Age: 9-99
ISBN 1-894666-49-6 $9.95
-----------
Here's a treasure from the past that promises to be a great blessing to Reformed households of our time: the Dort Study Bible.
The Dort Study Bible is a translation of the Annotations to the Dutch Staten Bijbel of 1637. These annotations, commissioned by the great international Synod of Dort, were used through out the Dutch-speaking world for many years. At the general desire in both Kingdomes (England and Scotland) to have the Belgick or Dutch Annotations upon the Bible (come forth first Anno Domini 1637) translated into English, they were indeed translated. This work was completed in 1657, and, in fact, Charles Spurgeon had a copy of it in his library.
Now retranslated and edited, the Dort Study Bible is once again being made available to the English-speaking world. Currently the first five volumes have been published, covering the Old Testament from Genesis to Job.
Each Bible book is introduced in a short essay entitled "The Content of This Book." Each Bible chapter is summarized briefly and then the entire chapter is printed in bold type, with numbered annotations printed in ordinary type interspersed among the verses. Both the font and layout are clear and appealing, making this much more than an ordinary study Bible and almost like a commentary.
When I used the Dort Study Bible to read Esther, I learned a lot. However, when I used it to study Job, it was as though I finally understood that book. The Study Bible was full of insights that I had not grasped before. The annotations are not theological and scholarly in the modern sense; instead they seem to have an almost pastoral flavor, as if a dear godly guide is pointing out all the Biblical treasures that we would miss on our own.
The multivolume Dort Study Bible is beautifully bound with burgundy and gold covers, including a stamped replica of the coin minted to commemorate the Synod of Dort. Each volume costs just over $20 US and is available from Inheritance Publications.
If you own the Inheritance Publications catalogue, you can find a detailed description, with sample pages, on pages 126 to 131. Note that the catalogue, which contains the best-selling adventure Scout: Secret of the Swamp, is available free with any purchase from Inheritance Publications.
Disclosure: I received Volume 1 (Genesis to Exodus) and Volume 5 (2 Chronicles to Job) of the Dort Study Bible from Inheritance Publications in order to review the series. I receive no compensation for this review and my opinions are my own.
-----------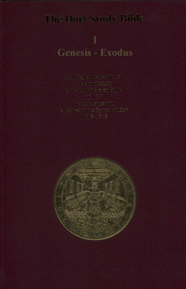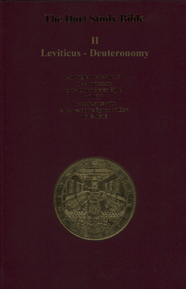 The Dort Study Bible
An English translation of the Annotations to the Dutch Staten Bijbel of 1637 in accordance with a decree of the Synod of Dort 1618-1619
Vol. 1 Genesis and Exodus ISBN 1-894666-51-8 $24.95
Vol. 2 Leviticus - Deuteronomy ISBN 1-894666-52-6 $24.95
Vol. 3 Joshua - 2 Samuel ISBN 1-894666-53-4 $24.95
Vol. 4 1 Kings-1 Chronicles ISBN 978-1-89466654-1 $24.95
Vol. 5 2 Chronicles - Job ISBN 978-1-894666-55-8 $24.95
The easiest way to get vol. 6 - 14 automatically sent to you (D.V. from 2012 - 2016) is to join the
Inheritance Publications Book Club
-----------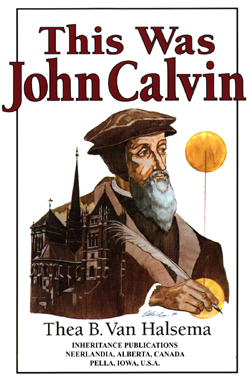 In the last few years, much has been published about John Calvin, the great reformer of Geneva. Even so, this fifty year-old biography by Van Halsema is still one of my favorites. It's interesting, easy to read, full of information, and balanced. Calvin's complex life is neither glorified nor romanticized, nor are his faults exaggerated. This book does not focus on Calvin's theology, but it does show how his beliefs found expression in both his public life and his personal struggles.
Beginning with his childhood, and referring to world events, Van Halsema paints a story of Calvin's privileged early years in the context of his times. She follows him through his studies for priest and later for lawyer, detailing how the brilliant student spent his days and discussing his many friends. For a while after his reluctant conversion, he lived as a hunted man in France while wishing for the quiet life of a scholar. Although Calvin did become a renowned scholar, he was never to have peace and quiet, either in Geneva or in Strasbourg, two cities that claimed much of his life. Van Halsema follows him through turbulent times in Geneva, the joys of marriage, the challenges of encouraging Christians to serve God, and the many other opportunities to help and support believers throughout the Europe.
This Was John Calvin, now reprinted for the fifth time in English, has been translated into at least six other languages. The book's popularity is probably due to its lively writing as well as its detailed accuracy. The writing is clear enough that teens can understand and enjoy it, and informative enough to give adults new insights. I highly recommend this book as an engaging introduction to John Calvin and reformation times.
Caution: In a few instances, cruel tortures are briefly described.
Disclosure: I received this book from Inheritance Publications in order to review it. I receive no compensation for this review and my opinions are my own.
http://anniekateshomeschoolreviews.com/2011/01/review-this-was-john-calvin-by-thea-b-van-halsema/
-----------
This Was John Calvin by Thea Van Halsema
Roger Nicole: "The most lively and readable biography of Calvin available in English."
J.H. Kromminga: "Though it reads as smoothly as a well written novel, it is crammed with important facts. It is scholarly and popular at the same time. The book will hold the interest of the young but will also bring new information to the well informed. . . . This book recognizes the true greatness of the man without falling into distortions of the truth to protect that greatness."
John Calvin comes alive as the author brings imagination as well as research to bear upon her subject. Her portrayal of the Genevan reformer is both appealing and honest.From this account, Calvin no longer is seen merely as "carved like a monument in the panorama of human history," but has become vivid, lifelike, and real. This is biography at its best.
Time: 1509-1564 Age: 12-99
ISBN 978-1-894666-90-9 $11.95
-----------
Review: Story Bible for Older Children by Anne De Vries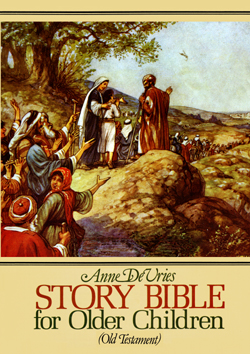 Here's a two-volume story Bible I recommend to all families, whether they know the Bible well or not, whether they 'believe' in story Bibles or not, and whether their children are beyond such things or not.
The Story Bible for Older Children by Anne De Vries comes in two 300+ page volumes, one about the Old Testament and the other about the New Testament. These two hard-cover books, carefully bound to last, are meant for children ages 7-12 but will bless the entire family.
Anne (ah'-nuh, a man's name) De Vries, a Dutch teacher and popular author in the mid-1900's, skillfully and reverently retold over 400 Bible stories in this, one of his greatest projects. Whereas most story Bibles simplify and trivialize Biblical history, De Vries expanded upon the Biblical narrative, expressing implicit emotions, details, and conversations. He did not ignore difficult episodes, but retold them in a manner suitable for children. De Vries, an experienced teacher, gave explanations where a child would ask for them. Occasionally he went overboard, though, and I have had to remind my little ones that the real Bible doesn't say quite as much as the story Bible does. Be that as it may, anyone who knows the Story Bible for Older Children knows the narrative of the Bible well.
Even our youngest children have gone through the entire Bible several times, but sometimes the stories can get lost in the midst of genealogies, laws, prophecies, and letters. The Story Bible for Older Children helps by presenting a memorable, chronological narrative. In fact, these two volumes would benefit anyone, child, teen, or adult, who doesn't know the Bible stories well. Even those who are very familiar with the Bible can gain a fresh perspective from Anne De Vries's retelling.
For example, I, who have been blessed with Bible reading from early childhood, never really understood Sarai's struggle until I read this excerpt:
A solitary woman went about her work in her tent. In the evenings she was joined by an even older man – Abram. It was quiet, very quiet, in their tent. They were alone with their great desire for the child the Lord had promised them.
"Nothing will ever come of it," said Sarai, feeling depressed.
Abram tried to comfort her. "We must wait patiently until God's time has come. His promises are sure."
"We have already waited so long," Sarai replied. "We're getting older and older."
My two little girls, 8 and 10 years old, love their story Bible time. After we've read a story, they usually clamor for another one, and after that for just one more. When I hesitate, I often hear, "After all, it's the Bible, Mom!" and I usually give in.
Just to give an idea of the detail and scope of the Story Bible for Older Children, here is an excerpt from the Table of Contents of each volume:
Old Testament:
221. A plot against prayer
222. Daniel in the lions' den
223. The return from exile
224. The rebuilding of the temple
225. Ezra and Nehemiah
226. The rebuilding of Jerusalem
227. Esther becomes queen
228. Mordecai and Haman
229. Esther and Haman
230. Haman's humiliation and death
231. By faith
New Testament:
1. A miraculous message
2. The handmaid of the Lord
3. Two joyful households
4. Jesus' birth
5. Shepherds and angels
6. Simeon and Anna
7. Wise men from the east
8. Herod's hatred
9. Worship and murder in Bethlehem
10. Jesus as a boy
The careful and detailed illustrations by Cornelis Jetses, a well-known Dutch illustrator, add immeasurably to the stories. These pictures are not the silly cartoons of so many children's Bibles, but rather serious, well-researched art work that respectfully treats the Bible as God's holy Word.
I highly recommend the Story Bible for Older Children. It is wonderful for reading aloud. It would also make an amazing Bible curriculum. Although expensive, it is a worthwhile investment in a family's knowledge of God's Word. In fact, if grandparents or other relatives are wondering what to buy for your children this Christmas, you might wish to suggest this two-volume story Bible.
The Story Bible for Older Children is available from Inheritance Publications, for $29.95 per volume, or $55.95 for both volumes. (Note: you'll have to scroll half way down the page to find these books.)
Disclosure: I received The Story Bible for Older Children in order to review it. I am not compensated for my reviews and my opinions are my own.
http://anniekateshomeschoolreviews.com/2010/12/review-story-bible-for-older-children/
-----------
Story Bible for Older Children
by Anne De Vries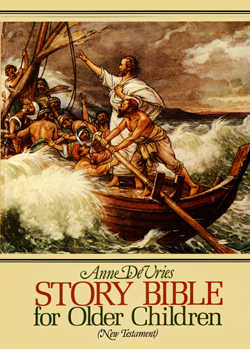 Old Testament ISBN 978-0921100-96-6 .$29.95
New Testament ISBN 978-0921100-97-3 $29.95
SET OF OLD & NEW TESTAMENT
0921100-96-6/97-3 $55.95
-----------
Annie Kate's daughter wrote the following:
My Mom has just had a wonderful opportunity: to review books for Inheritance Publications and I thought I would post my reviews about them here.
I just want to tell you a bit about Inheritance Publications. It is my absolutely favourite publisher. It was started quite a few years ago by Roelof A. Janssen to sell church music and records. Now he and his wife Theresa, who homeschool, publish historical fiction/church history books, books on doctrine and theology and music DVDs, CD, and sheet music. I haven 't really read any of the theology or music books but I have read a lot of the historical fiction/church history books and they are really, really good. The one I'm going to tell you about right now is: The Heroes of Castle Bretten by Margaret S. Comrie is an amazing book. Set in the Late Middle Ages, its main character, Guido, son of a Protestant nobleman, is almost 15 at the beginning of the story. His life quickly changes when he is taken as a hostage for the good behavior of Kalmit of Komorn to the nearby Castle Bretten. But Castle Bretten is a maze of deceit and conspiracy. Eleonore, the widowed, aging chatelaine is professed by her smooth-tounged nephew and heir, General Ruprecht, to be almost gone mad in her old age. Guido finds the real Lady Eleonore very different. After she befriends Guido he resolves help her. But, thanks to Ruprecht, all her old friends are enemies and she is friendless, save for the Black Eagles of Bretten, her faithful soldiers, and Guido. But Guido, thought to be the son of Kalmit of Komorn, is not what he seems. And he is not the only one......... I heartily recommend this book. It is explicitly Christian. There was NOTHING I didn't like about it, except that it it isn't very clear about the country its in and the timeframe and it's not long enough. I liked it so much that after I read it once I started at the start and read it over again. My Mom liked it a lot too. I'd think it would be for people no younger than 11 or 12, but still very interesting for older people.
My mom and I got The Heroes of Castle Bretten for free from Inheritance Publications to review it but I would have bought it anyways. It is CERTAINLY worth getting. To buy it click
and scroll down a little. It costs $9.95 US. (This review has been published online on a blog)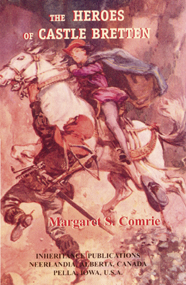 The Heroes of Castle Bretten
by Margaret S. Comrie
Time: 1618-1648 Age: 11-99
ISBN 1-894666-65-8 $9.95