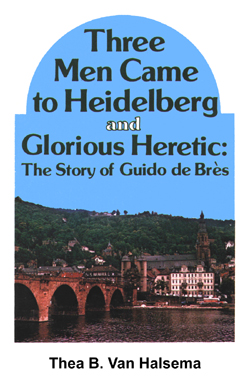 Subject: The Heidelberg
Catechism & Guido de Bres
Time: 1556-1587
Age: 12-99
ISBN 978-1-894666-89-3
Retail Price: US$9.95
Three Men Came to Heidelberg and
Glorious Heretic
by Thea B. Van Halsema
From the sixteenth-century Protestant Reformation came two outstanding statements of faith: The Heidelberg Catechism (1563) and the Belgic Confession (1561). The stories behind these two historic documents are in this small book.
Three Men Came to Heidelberg: Frederick, a German prince, asked a preacher and a professor to meet at Heidelberg to write a statement of faith that would help teach his people the truths of the Bible. The result was the Heidelberg Catechism.
Glorious Heretic (The Story of Guido de Bres): The writer of the Belgic Confession was a hunted man most of his life. Originally he wrote the confession as an appeal to the King of Spain to have mercy on the Protestants he was persecuting in the Lowlands. Not only was the request denied, but for his efforts the brilliant heretic de Brès was imprisoned and hanged by the Spanish invaders.